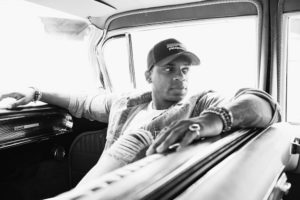 NASHVILLE, TN (February, 21 2018)—Stoney Creek Records' Jimmie Allen made his Country radio debut yesterday (2/20) with his eagerly anticipated first single "Best Shot," which secured its position as the 2nd Most Added song at Country Radio. This remarkable debut comes on the tail of being recognized on nearly every "One to Watch" list for 2018 after quietly dropping his self-titled EP in October.
The hot newcomer instantly won over music lovers on digital streaming players with his cutting-edge melodic mix of Country and rock, soulful groove and heartfelt lyrics. Fans immediately latched onto "Best Shot," quickly pushing Allen to the top of the players' Country music playlists and beyond.
Written by Jimmie Allen, Josh London and JP Williams, "Best Shot" is a personal song, inspired by advice from Jimmie's grandmother.
"It's incredibly special to be able to introduce myself to Country music with such a personal song that was inspired by the person who always encouraged me to pursue my dreams," said Allen. "I've always dreamt of what it would feel like to turn on the radio and hear my own song playing through my speakers and I'm so thankful to Country radio for helping make that dream a reality."
In addition to sharing his first single and embarking on an extensive nationwide radio tour, Allen is also telling his story to the world, which
Taste of Country
declared "the most feel-good story since fans learned of Shania Twain's hard luck upraising," with a brand new docu-series "
Jimmie Allen All In
,"
available here
.
Jimmie Allen
, produced by Ash Bowers and Eric Torres is available for purchase
HERE
.
ABOUT JIMMIE ALLEN:
The epitome of the phrase "persistence pays off," Jimmie Allen laid it all on the line to make his dreams a reality. Now signed to BBR Music Group's Stoney Creek Records, Jimmie Allen released his self-titled debut EP (10/2017) featuring a cutting-edge mix of country, rock, R&B, and pop produced by Ash Bowers and Eric Torres.
The Southern Delaware native's talent for songwriting is undeniable, having written a song that was featured in a Super Bowl commercial and appeared in a Diet Coke ad with megastar Taylor Swift. "Blue Jean Baby," off his debut EP, immediately caught the attention of country music fans and critics alike with its soulful groove— rocketing it to #8 on Spotify's Viral Top 50 chart and #5 on Spotify's Wild Country playlist.
Allen is currently introducing his music across the country sharing the stage with the likes of David Nail and superstar Toby Keith. The hot newcomer has already been heralded as one of the top "artists to watch in 2018" by Rolling Stone, Billboard, Pandora, Sounds Like Nashville, NY Country Swag, Country Music Rocks and New England Country Music has earned spots in CMT's "18 for 2018" Listen Up program, Bobby Bones' Class of 2018.